Description
Leap Device Edge Node – Single or Dual Thermocouple Wireless Sensor Systems
Phase IV Engineering, Inc.
Leap Device Edge Node Datasheet (PDF)
Wireless, battery-powered Leap Edge Node has a standard mini thermocouple connector for any K-type thermocouple.
Reads K-type thermocouples in the range of -150C to 1300C.*
*User must verify that the thermocouple is rated for the temperature it is measuring.
*All Thermocouple Types available.
Because thermocouples cover a wide temperature range and come in a huge range of probe types, this Edge Node is one of our most popular.
Connects to the Leap Wireless Sensor System with a secure 2.4GHz, FCC-certified radio.
A short thermocouple cable extends from the Device Edge Node with a standard mini bladed thermocouple connector. A rubber boot is included to protect the connectors and hold them securely together.
---
Wireless Sensor Gateway, Ethernet Connection
Leap Wireless Gateway Datasheet (PDF)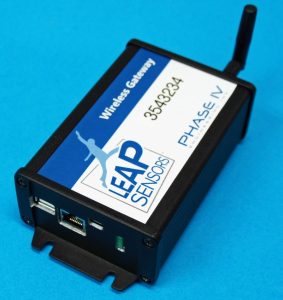 Wireless gateway receives the sensor data over the air from the Leap wireless transceiver nodes, then passes the data to the Leap software.
This version connects to a local network via standard Ethernet cable and RJ-45 connector.  When the software resides on the gateway, the software may also be directly accessed using the USB port on the gateway.
Easy to install – plug in the gateway, open a web browser, log in, and the Leap Sensors system is ready to manage.
---
Leap Data Server Software – Gateway Based or PC based with MODBUS Interface
Leap Wireless Sensor Software Datasheet (PDF)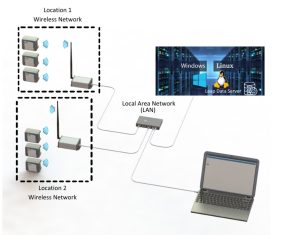 The Leap Software gets sensor data from the Leap Gateway. The Leap Software is comprised of two main parts – a user interface and a database.
The software allows the user to monitor the sensor data, graph data, set email and text alerts, change sensor settings.
The software is web-based – so a user logs into the software using a standard web browser, such as Chrome. There is no software or app to install.
For PC-based systems, the software runs on a powerful single-board computer inside the Leap Gateway.
Cloud or server-based systems can be accessed with any web-connected device and the user password. Phase IV also offers a subscription-based Leap Cloud server that is up and running in a few minutes.
---
Outdoor Use Option – Device Node
If the device node will be used outside, we recommend this option. The device node enclosure is rated to IP67, but other features provide further protection when the system will be used outside in varying temperatures. This option includes conformal coating the device node circuit boards and adding a Gore vent to the device node enclosure. The gateway is rated for inside use only.
---
Leap Edge Node Mounting Kit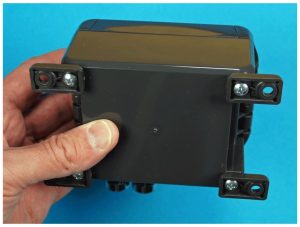 Includes rugged matching polycarbonate flanges that can be fastened in a horizontal or vertical orientation. Screws are included to mount the flange brackets to the enclosure.
Also includes Velcro strips for temporary mounting.
Note: Enclosure may also be mounted with screws that are 8-32 or M4 pan-head (or smaller) using the mounting holes in the enclosure.
---
---
Leap Sensors are specially designed to easily adapt to your specific needs. If this isn't exactly what you need, please contact us.
---
---
Detailed Specifications – Wireless Thermocouple Sensor – One Thermocouple
This highly versatile industrial sensor supports a huge variety of plug-in thermocouple temperature sensors.
Standard version uses K-Type thermocouples.  All other types are also available.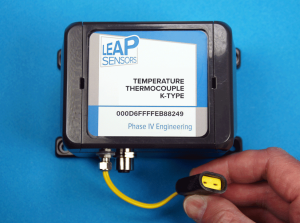 Leap Device Edge Node Overall Temperature Accuracy
Please note that the overall temperature accuracy is a combination of the electronics and the thermocouple that is connected to the Leap Sensor.  Since the thermocouple is typically selected by the end-user, an overall accuracy of the final system cannot be stated.  Below is information on the accuracy of the Leap Electronics and additional general information on the accuracy of thermocouples.
Thermocouples are popular in many industrial applications due to their wide variety and wide temperature range.  They are not highly accurate and are typically used for monitoring applications and not for precision temperature measurements.   For higher accuracy temperature measurements, see the Leap RTD temperature sensors.
Thermocouple Electronics Specification
Electronics reads from
K Type    (0 to 1260) °C [32 to 2300] °F
J Type     (0 to 760) °C [32 to 1400] °F
T Type    (-200 to 370) °C [-328 to 700] °F
E Type     (0 to 870) °C [32 to 1600] °F
N Type    (0 to 1260) °C [32 to 2300] °F
S Type     (538 to 1481) °C [1000 to 2700] °F
B Type    (871 to 1704) °C [1600 to 3100] °F

Resolution is 19-bit or 0.0078125C.
Electronics accuracy is:

Typical: +/- 2C from -150C to 200C
Typical: +/- 1% of full scale from 200C to 1300C.
*Overall accuracy is a combination of the electronics and the thermocouple that is used.  See more information below.
Standard K-Type Thermocouple Sensor Specifications
Other thermocouple types are available.
Connect a K-type thermocouples using standard miniature flat pin connectors.  (see photos)
Connectors come with protective rubber boot.
Sensors come with basic insulated thermocouples/
Select your own thermocouple from a huge variety of options.
Thermocouples have different temperature ratings – but different versions can operate in the range of –454 to 2,300F (–270 to 1260C).
The Leap Sensor transmitter module (electronics, enclosure, and battery) can operate up to 85C, or 120C by special order.
Electronics set for K thermocouple range of -150C to 100C (-238F to 2372)F.
Standard Type K Accuracy
Leap Sensor Thermocouples are compensated for non-linear thermocouple characteristics at cold temperatures – to ensure accurate readings at cold temperatures.
Cold junction compensation is on the Leap Sensor circuit board.
---
About Leap Sensors®
Better Design – Better Data – Better Decisions™
Based on Phase IV Engineering's 30 years of wireless sensor experience, Leap is THE system designed from the ground up to meet the specific needs of industrial users. These sensors are a true leap advancement in Industrial IoT wireless sensing.
Modular design makes it easy & cost-effective to adapt to your specific needs – and update easily for a "future-proof" system.
Edge computing manages large amounts of data before transmission to software – only get information you need.
Bank standard data security: Multi-layered Thread network security using AES-128 data encryption.