Description
Tip Spacers
Melt Pressure Transducer Shim
Tip spacers or shims are often used on old extruder barrels where sensor tips are protruding into the melt stream. Transducer tips should be recessed from the inner extruder barrel wall by approximately 0.010"-0.020" to prevent excessive wear and early failure of transducer diaphragms. Our tip spacers / shims essentially push the diaphragm back from the inner wall, as shown in the diagram.
Melt Pressure Transducer Tip Spacer / Shim Features
Compatible with Dynisco, Gefran, GP50, and other melt pressure transducers and transmitters
Available in thicknesses from 0.020" to 0.093"
Material options: copper, brass, stainless steel
---
Tip Spacer / Shim
Transducer
Transducer Spacers or Shims – used on old barrels to help push transducers/rupture disks away from the inner barrel wall.
Note: The melt pressure transducer / transmitter should never stick into the material flow – it should be recessed. This is one of the main reasons for early melt pressure sensor failure.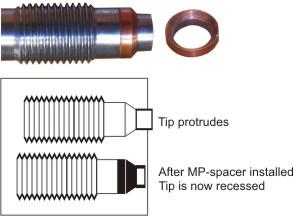 Features:
Used to seal push Transducer Tip Back from inner barrel wall

copper

Precision Machined

Sizes 0.025″ to 0.90″
Thread Adaptors: M18x1.5 to ½"-20UNF
Melt pressure transducer/transmitter thread adaptors can be used in an emergency to convert a metric M18x1.5 thread for use with a standard stock transducer with ½-20UNF thread.

Melt Pressure Thread Adaptors – M18x1.5 to ½-20UNF
Converts M18x1.5 thread to ½"-20UNF standard thread
Compatible with Dynisco, Gefran, GP50 and other melt pressure transducers and transmitters
Manufactured from 304/316 stainless steel
Features:
Emergency Conversion – M18x1.5 to 1/2-20UNF

304 SS material

Precision Machined